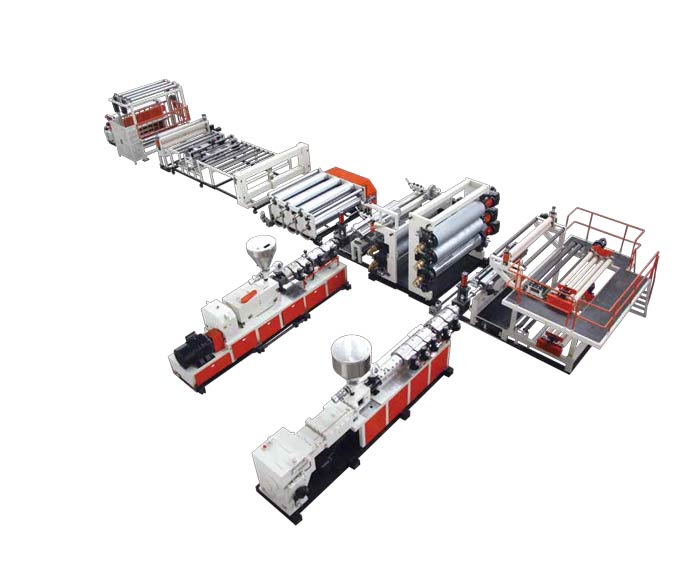 The traditional waterproof coiled material is mainly asphalt. Polymer waterproof coiled material series products are popular new products in recent years. Polymer waterproof coiled material has good environmental protection in both production and construction application process, and the aging resistance and waterproof of this kind of products are much higher than that of modified asphalt products. It is a key area of promotion led by the state and associations,JWELL company specializes in the production of polymer waterproof coiled material equipment. Since the advent of such products, JWELL company has successively cooperated with Dongfang Yuhong, ZhuoBao, GSE、Sika、Shuyang, Keshun waterproof and many other well-known large companies in China. The equipment involves civil construction, industrial construction, rail transit, artificial lake, landfill and other fields.
The specific equipment is as follows:
CPE/EVA/ECB/PE waterproof coil production line (for CRCC certification of Ministry of Railways) :
Width of the product: 2000-4000mm;
Annual output: 5-10 million square meters;
Extrusion output: 1000-2000kg/h
Universal single-layer equipment is suitable for PE/PVC/TPO/CPE/EVA and other raw materials.
Products are suitable for industrial and civil building waterproofing industry.
Equipment output: 350-1200kg /h;
Product width: 1200-3000mm;
Product thickness: 0.4-3.0mm
Ultra-wide PE/PVC/TPO waterproof Coil production line:
The product is suitable for industrial and civil building roof waterproofing; Waterproofing of buildings: including reservoirs,
Dam and pond waterproofing, tunnel, grain depot, civil air defense, landfill, artificial lake waterproofing, etc.
Product width: 5-8.5 meters;
Production capacity: 1200--2000Kg/h;
Thickness specification: 0.9-3.0mm.