In today's high-tech era, the era of rapid replacement, a good research, and development team is undoubtedly very important, which is necessary for the sustainable development of an enterprise. Technological innovation is the basic premise for the survival and development of an enterprise. In the current new international and domestic environment, increase the intensity of technological innovation, but also enhance development ability, the inevitable choice of response to market competition, Jwell company in research and development of this block is also enough hard, make full use of the resources, set up specialized technical research and development team and lab, continuous innovation, striving to technical strength to walk in the front, Here are some of the new technologies that have been developed recently:

Polymer Composite Waterproof Roll Extrusion Line-- Five Roll Calender
1. Jwell Machinery is a leading professional manufacturer of polymer waterproof coil equipment in China. It has been providing a complete set of production line equipment for Oriental Yuhong, Karen, Zhubao, GSE, Sika, and other domestic and foreign first-class waterproof enterprises, which is suitable for the production of multi-layer waterproof coil of various materials and different structures. The maximum width of finished coil can reach 9000mm.
2. This product is a five-roll calendering machine. The extrusion line is the main component of composite polymer waterproof coil production line. The production line is suitable for PVC, TPO, PE, and other materials of waterproof coil. The structure of the coil includes homogeneous coil (code H): waterproof coil without internal reinforcement material or backing material; Coiled material with fiber backing (code L): waterproof coiled material with fabric such as polyester non-woven fabric composite on the lower surface of the coiled material; Internally reinforced coil (code P): waterproof coil reinforced with polyester mesh cloth in the middle of the coil; Internally reinforced coil (code G): a waterproof coil reinforced in the middle with a glass fiber mesh cloth;
3. Main technical parameters: product width: 1200-2000m, product thickness: 0.4-3.0mm; Thickness deviation:±0.02mm; Rolling specification: 6500X2400mm; Drive mode: Yaskawa servo drive; Driving Power: 4.4KW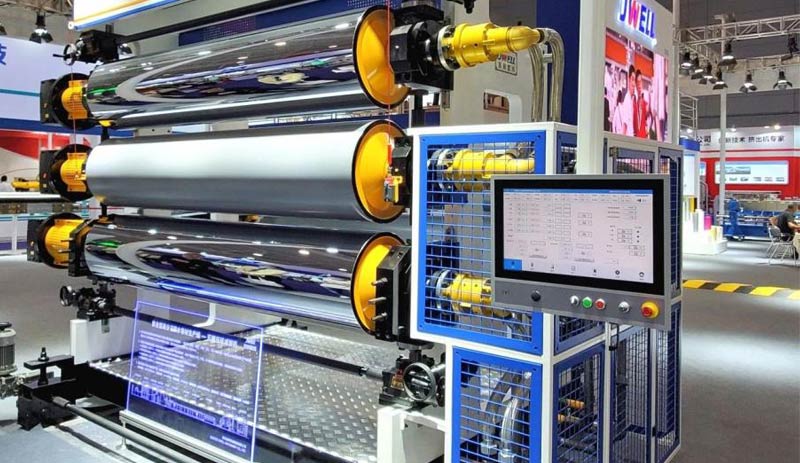 CJWS 75 Plus- -52D - -250KW-400RPM Special Equipment for Degradation and Modification.
CWS 75 PLUS-52D-250KW-40ORPM degradation modification special equipment, for high-end customers at home and abroad, the pursuit of higher quality, stronger performance, and better reliability.
1, choose a domestic ultra-high torque transmission box or original imported transmission box.
2. Torque rating T/A3=13.5N.m/cm3.
3. The cylinder is inlaid with CR26 alloy steel integral sleeve, and the original thread is made of 6542 tungsten-molybdenum HSS material.
4, screw material: WR5PM +HIP(powder metallurgy hot isostatic pressing technology).
5, Coupling: Autogard, UK.
6. The main motor is a high-frequency conversion motor.
7, screw speed range: 40~400rpm.
The machine has the characteristics of low energy consumption and high production, and the technical index, product performance, and comprehensive quality have reached the international advanced level.