JWELL Extrusion Machinery Co., Ltd is one of the large-scale professional manufacturers of plastic extrusion machinery in China. Since its establishment in 1997, JWELL has developed from a factory at the beginning to now has Zhoushan, Shanghai, Suzhou, Changzhou, Haining, and Foshan. There are 8 production bases in Chuzhou and Bangkok, Thailand. From the initial dozen of entrepreneurs, it now has more than 3,000 employees, and a large number of management talents and business partners with ideals, accomplishments, and professional division of labor.

JWELL Machinery has more than 20 holding professional companies. Its products cover the compounding and granulation of various polymer materials, pipes, profiled materials, plates, sheets, non-woven fabrics, chemical fiber spinning and other production lines, as well as blow molding machines, Plastic recycling (crushing, cleaning, granulation), single-screw/twin-screw extruder and screw barrel, T-shaped die, multi-layer round die head, screen changer, roller, automatic auxiliary equipment and other accessories.The annual output of more than 3,000 (sets) high-grade plastic polymer extrusion production line and other complete sets of equipment, as well as the honor of being ranked first in the extrusion industry for 11 consecutive years, make JWELL a well-deserved leader in China's extrusion machinery industry.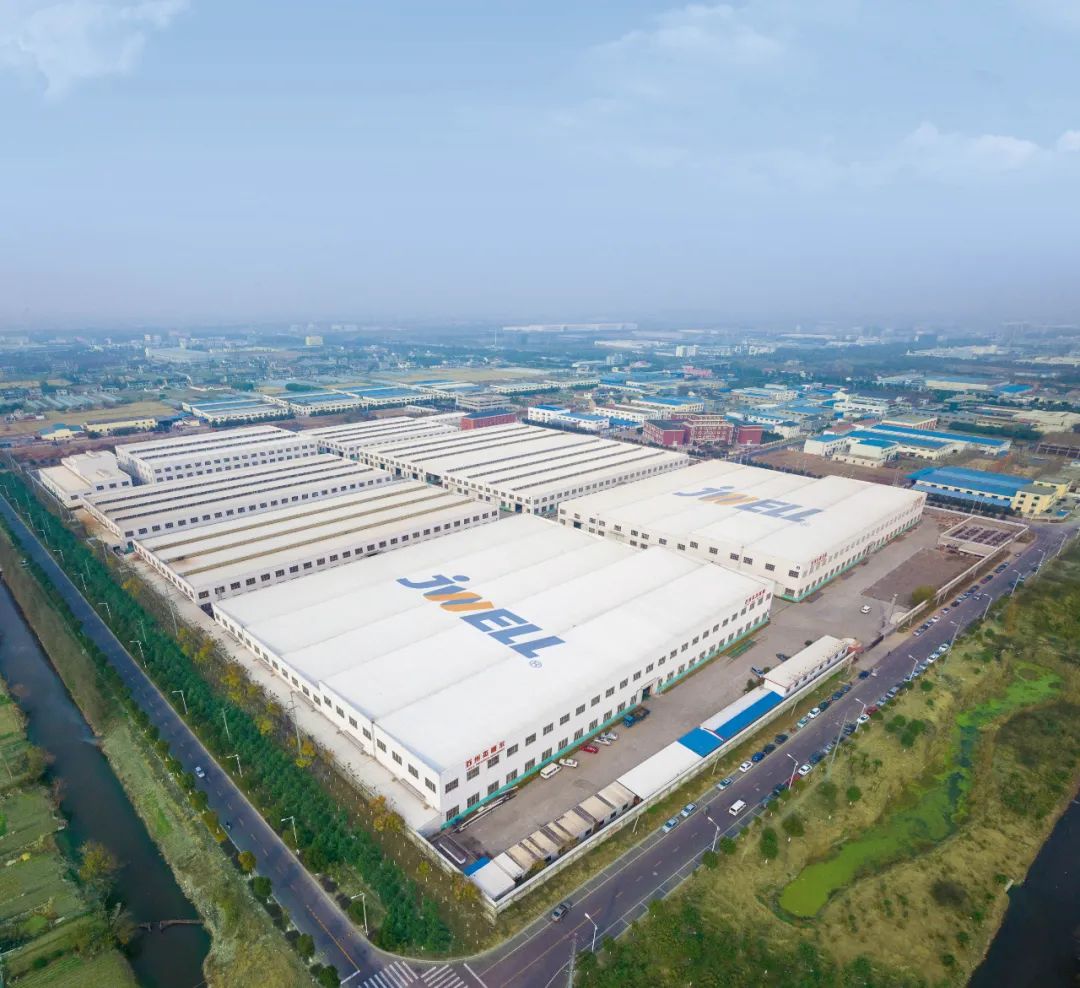 JWELL Suzhou Factory
In the 25 years of ups and downs, how did Chairman He Haichao lead JWELL Machinery to ride the wind and waves? The answer may be very simple, which is hidden in JWELL's enterprise spirit - "Perseverance with heart, hard work and innovation".
Persistence
"I am very lucky.I always meet a lot of trustworthy and hard-working people.From general managers at all levels of the company to ordinary employees, many of them have worked in the company for more than ten years.Now the second generation of JWELL young people have also been recruited.The influence of parents has entered the company." This is what Chairman He Haichao said in an interview with "CPRJ China Plastics and Rubber" in 2017.
In each factory of JWELL, there are many old employees who have been working for more than 15 years.Just like JWELL in the past 25 years, they only do extrusion, and they will only do this in the future.If you focus on one thing, you will naturally be able to do one thing well.This is the heart of a craftsman.
For talents, there must be consistent values, so as to form a team.The values of JWELL's senior management mainly include the following points: 1.Don't come here to make quick money, and avoid light tastes; 2.Maintain high standards and high-quality requirements, make exquisite products, and must focus on the company's main products; 3.To achieve a conscientious price-performance ratio, even when the product is in short supply, the price is guaranteed to be reasonable and moderate.4.We must do everything possible to achieve the highest efficiency, the highest production efficiency and management mode, which is the breakthrough for future work; 5.We must have Internet and platform thinking, pay attention to customer experience, and use intelligent human-computer interaction, visual inspection, large-scale Data, etc., is an irreversible trend.Integrating these points into the mission of JWELL people is to persist in hard work and innovation, focus on customer experience, and create an intelligent global extrusion equipment ecological chain.
When the epidemic was at its worst in 2020, all JWELL employees could arrive at their posts ahead of schedule.Throughout the year, 36 commissioning technicians in the company overcame many difficulties and went to different countries to conduct equipment debugging overseas, which won a good reputation for the JWELL brand.credibility.
Talent is the most important corporate resource of JWELL, whether it is a joint-stock partnership manager selected from among JWELL employees, a foreign company executive or an overseas expert hired with a lot of money, or the person in charge of a research institute, or Chairman He Haichao It is repeatedly mentioned that we should always be grateful to the experts and professors of scientific research institutions who have given help, and the "JWELL Class" established to train front-line engineers.Talent cultivation and potential stimulation have become an important starting point for JWELL's various decisions.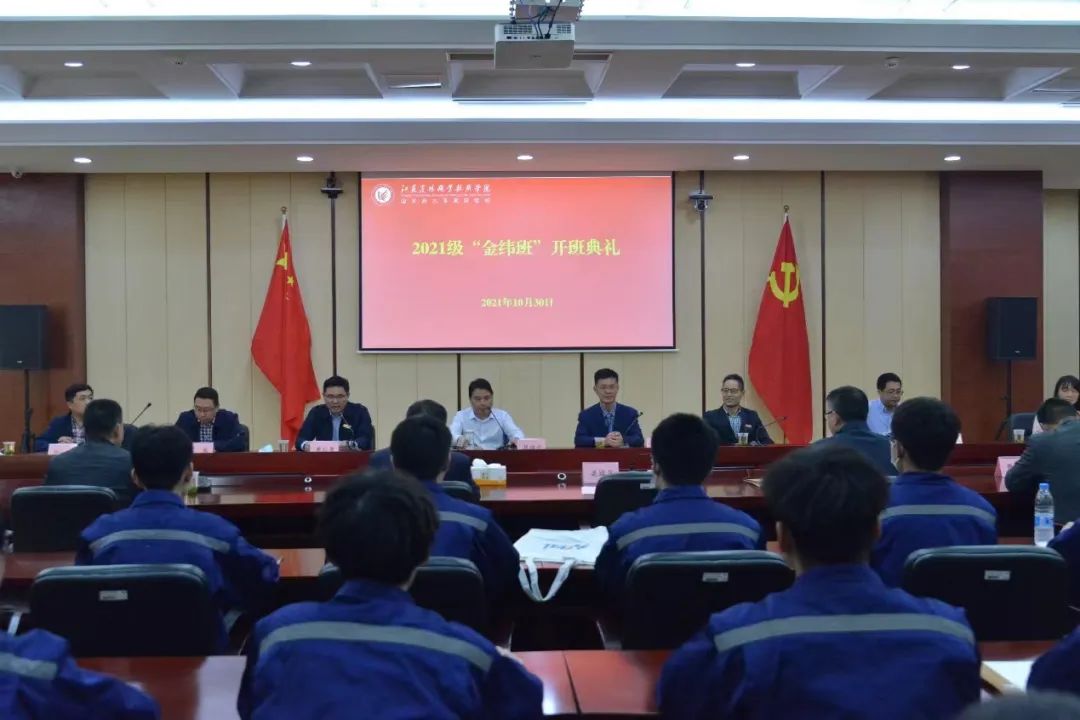 The opening ceremony of the 2021 "Jwell Class" of Jiangsu Agriculture and Forestry Vocational and Technical College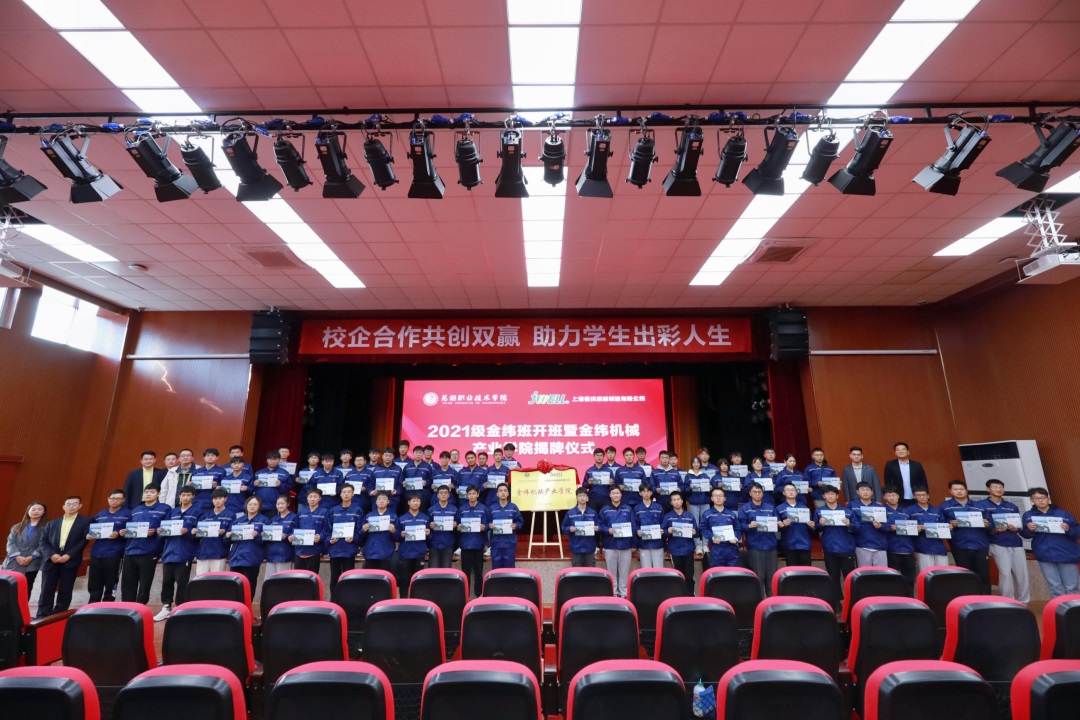 The opening ceremony of the 2021 "Jwell Class" of Wuhu Vocational and Technical College
Over the past 25 years, relying on a sound talent training system, continuous investment in research and development, mastery of core technologies for key components such as barrel screw/flat die head/roller, and advantages in the industrialized global supply chain, JWELL has made JWELL Weft has occupied a large market share in the extrusion segment.These achievements cannot be achieved overnight, but rely on the "perseverance" of all JWELL staff.
How can an excellent platform breed greater commercial success? We JWELL people firmly believe that we must find the right position in the subdivision field, so that we can know ourselves and the enemy, and not be afraid of competition.Good professional quality is forced out of market competition, and we must focus on continuous innovation in subdivided fields and persevere persistently.Every achievement is inseparable from concentration.Many successful people have focused on a certain field for more than ten years, at least four hours a day, more than two hundred working days a year, and accumulated nearly 10,000 hours to achieve results.This is " The 10,000 Hour Law of Success".With a clear goal, we must stick to our professional ethics and serve our customers conscientiously.This will surely attract more customers and let them see the value of our JWELL products and professional services.
Hard Work and Innovation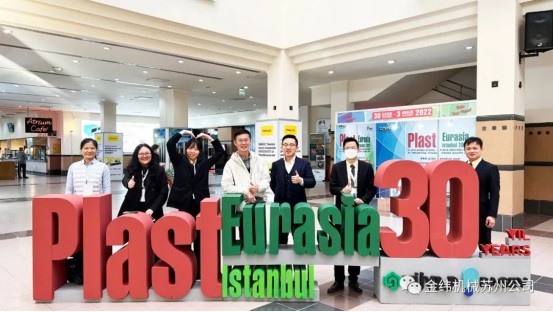 Graphic: Chinaplas 2021 in Turkey.Chairman He Haichao once again took command of the cloak and personally led some domestic sales elites and overseas sales teams to take the initiative to go to Turkey exhibitions to exchange ideas face-to-face with customers, bring enough confidence to customers, and demonstrate that JWELL people are capable of stably satisfying customers' demands need.
In recent years, JWELL has set up many laboratories for the new technologies of plastic processing that are widely discussed in the market.For example, the factory in Liyang, Changzhou has two R&D laboratories equipped with several sets of new instruments and experimental production lines.General Managers Shan Yetao and General Manager Liu Chunhua lead technicians to develop various new materials and processes.
Once an opportunity is identified, the next step is to bring it to market quickly.For this reason, Chairman He Haichao organized all the general managers of JWELL to put forward some key research projects every year.Once approved by the board of directors, different laboratories and relevant technical personnel will be equipped to carry out the research.Not only that, JWELL also uses the power of raw material manufacturers, university institutions, and powerful manufacturers to jointly develop the technologies needed by the market.For example, the technology of HDPE and TPO wide-width waterproof membrane developed in cooperation with ExxonMobil in the past few years, and cooperation with domestic and foreign universities with strong research and development capabilities, such as Beijing University of Chemical Technology, East China University of Science and Technology, Donghua University, etc., jointly developed new materials and new processes, and an example of JWELL looking for upstream capable manufacturers for resource integration based on customer needs.JWELL Machinery integrates all resources, tackles key problems from within, solves technical pain points, and finally launches professional products that meet the needs of market segments.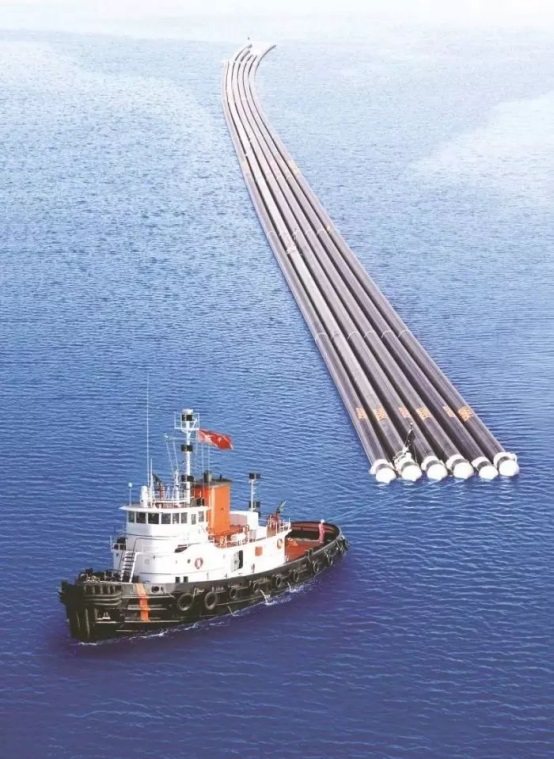 Illustration: The DN1600 SDR26 solid-wall pipe with a length of 500 meters produced by JWELL Machinery's solid-wall pipe equipment is used in Turkey's cross-sea water transmission project; this photo was selected by China Economic Daily in 2021 for the promotion of representatives of China's machinery industry .
In recent years, according to market demand, JWELL has developed ASA decorative film production line, degradable plastic starch filling modified granulation line, PET bottle flake recycling granulation line, graphene slit coating lamination compound production line, medical EVA transparent film production line , medical TPU cast film production line, horizontal water-cooled high-speed corrugated pipe production line, PE1600mm thick-walled solid-walled pipe production line, BM30 continuous extrusion double-layer online shaping hollow molding machine, PA film embossing production line, 8500mm wide geomembrane/waterproof Coiled material production line, waste recycling modified production line, etc.
8500mm wide geomembrane/waterproof membrane production line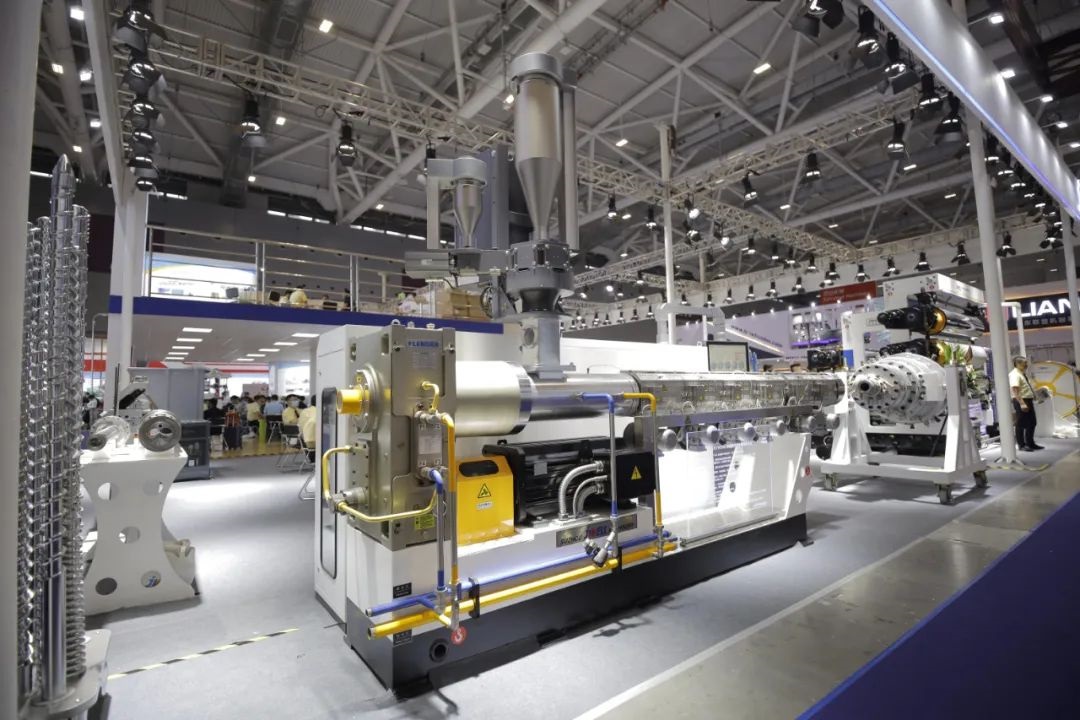 JWELL Machinery's fifth-generation ultra-high-capacity extrusion equipment
With the improvement of people's living standards, the application of various new materials is developing and changing in the direction of composite and multifunctional.Even for the same material, they have developed various requirements in different application fields.Taking TPU material as an example, safety and non-toxicity are emphasized in the medical industry, color diversity is more emphasized in the car coating industry, and outstanding performance is required in the packaging industry.
Based on the changes in subdivided fields, the extrusion equipment industry is also actively finding its own positioning and direction in these new application scenarios—not only professionalism, but also reliable performance, high cost performance, energy saving and high efficiency, and high degree of automation..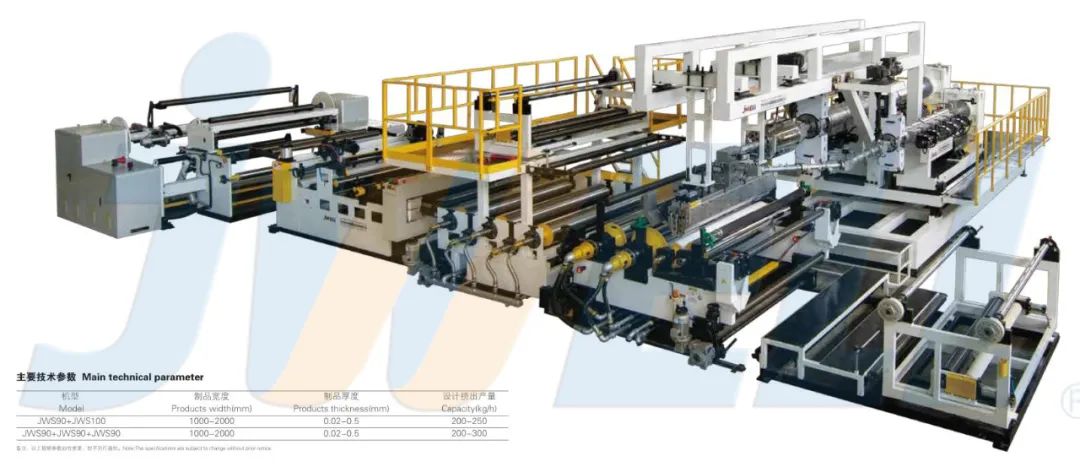 JWELL Machinery TPU high and low temperature film, high elastic film production line
In terms of product specialization, JWELL has performed well in the development of new materials and the development of the same material in different fields.For example, JWELL has been continuously researching and testing in the TPU film industry, including TPU foaming, TPU medical film, TPU car coating film, TPU functional composite film, TPU hot-melt adhesive film and more than 10 subdivided product industries.In the field of special functional films, JWELL has actively invested in development and testing in combination with the technical characteristics of users and market applications, and successfully developed special functional film production lines and other market-needed products.
For different countries and regions, customer requirements will also vary greatly.In developing countries such as India, local customers demand more for simple operation of machines, while some factories in Europe, the United States and China put forward high requirements for automation.These large-scale demand differences lead JWELL to directly divide them into several different versions when producing extrusion equipment: the standard version with simple configuration, the enterprise customized version that meets certain industry applications, and the customer that fully meets the individual needs of customers.Custom Edition.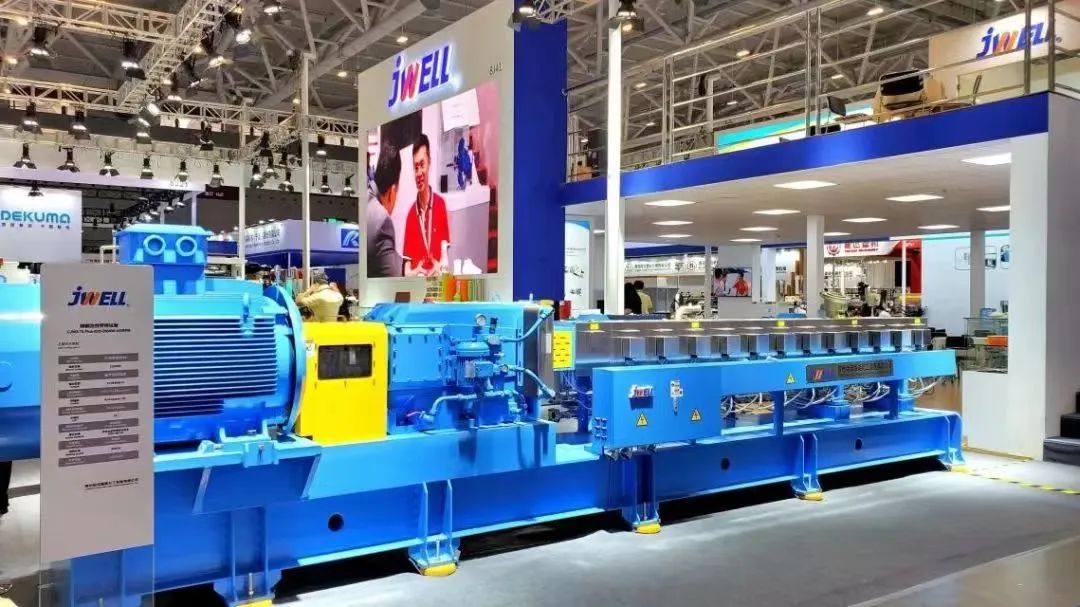 Jwell Machinery Flat Double Granulator
In the face of new industries, new fields, and new materials, the leaders of different subdivided industries are working hard in JWELL's major laboratories, and constantly speed up the research and development of new technologies; even when the epidemic is repeated in 2020 and 2021 There are still fearless JWELL people stationed in various overseas markets, actively meeting the needs of overseas customers, and winning a good reputation for the JWELL brand; moreover, every ordinary and great JWELL person has been working on the job for several years Persevere and do things well with your heart.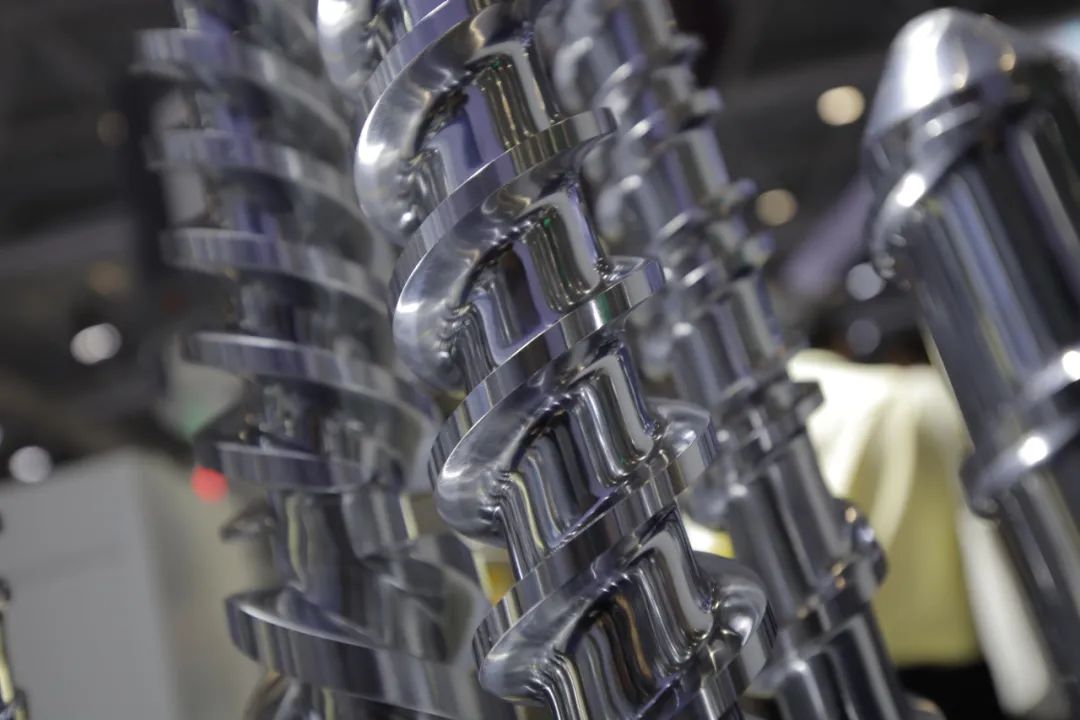 "Golden Conch" brand screw
The hardworking and innovative ideas of JWELL people are not only reflected in the research and development of new technologies and materials, but also in the exploration of the models of JWELL Machinery's major factories.
JWELL Suzhou Plant is a manufacturing base of various core components and a large-scale production line manufacturing company, mainly responsible for the manufacture and assembly of large-scale, high-precision complete sets of equipment within the group.The Changzhou Park is a new attempt, an ecological chain model in which upstream and downstream are closely connected, and many companies in the park are thriving.Haining and Thailand adopt the "little giant" model of flat management and high-efficiency production.From the initial small team brought to Shanghai, the establishment of the company, the establishment of the JWELL brand, and the establishment of the major factories today, all JWELL people have continuously learned and explored in actual combat.
Changzhou JWELL Industrial Park, where we are located, continuously introduces high-end talents and potential new products into JWELL's large platform through cooperation, forming a certain complementarity with Suzhou and Shanghai bases in terms of product direction.All companies here are joint ventures, with managers who are both executives and shareholders.Changzhou JWELL Chemical Complete Equipment Co., Ltd.is one of them, which is dedicated to the production of high-grade co-rotating parallel twin-screw main engines and supporting auxiliary machines.In the past, the extrusion equipment we produced was mainly single-screw and counter-rotating conical twin-screw.In recent years, in addition to the traditional application of granulation and modification, co-rotating parallel twin-screws have also been more and more applied to direct extrusion molding of products.Changzhou JWELL Chemical Complete Equipment Co., Ltd.has formed a lot of polymer materials.Classic applications, such as polyurethane, silicone rubber, engineering plastics, glass fiber reinforcement, cable materials, high filling, one-step molding PET/EVA/PVB, etc.have been ahead of the industry.
"We must wholeheartedly build good products.We firmly believe that if we have products that some users really like and are better than other peers, no matter how bad the current market is, there will be great opportunities." Chairman He Haichao's words imply This is also the key to Changzhou JWELL Chemical Complete Equipment Co., Ltd.to stand out in the industry.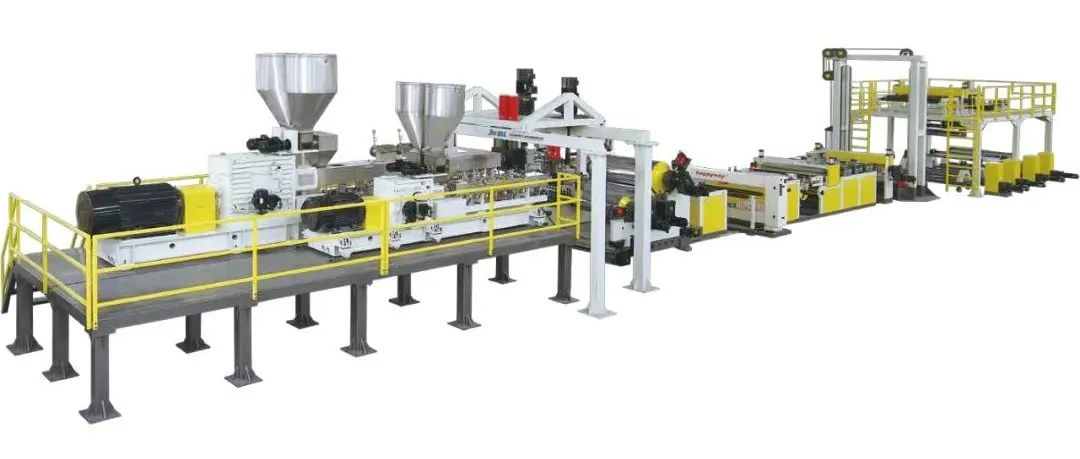 Twin-screw non-drying exhaust type PET/PLA sheet production line
JWELL's different models have incubated more than 20 professional companies, and each company has its own expertise, which can be described as 'a hundred flowers bloom together'.Chairman He Haichao described JWELL's entire system as "a platform-based ecological chain".Its typical features are that JWELL's different professional companies specialize in various subdivisions, and there are a large number of professional technical design and customer service personnel.The technical aspects are complex and there are many customized products.The whole system is in line with the customization and specialization needs in the current market.It is close to the customer's technological process and takes advantage of system integration.The major branches have also formed a flexible system.When faced with some market opportunities, they can quickly open up production.Every link, come up with high-quality production lines that customers need.
Future
We at JWELL firmly believe that only by having a deep understanding of the future market and technology and increasing investment can we continue to lead the development of the industry.
"In the next few decades, the market will enter a new era of winning by quality.If you can't achieve a well-known brand in the industry, or if you are not on a good platform, the enterprise will not be far from death.For customers, a life is endless.It is very important to have a good brand, reputation, quality, good products and professional services to get a very good customer experience." Chairman He Haichao's words are sobering.
The mission of JWELL people is to "persist in hard work and innovation, focus on customer experience, and create an intelligent global ecological chain in the field of extrusion equipment.Let every company and outstanding employees on this platform have a stage to show their value!" "